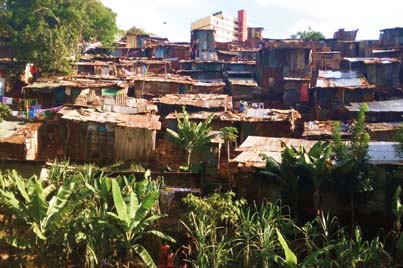 Pepea Trust's 'Exodus Project'
Its vision, mission, strategy and urgent objective
Vision
The world needs people who become a presence and a prophetic sign of the Kingdom of God. In a more 'secular' way, the world needs 'utopian spaces' according to the two etymologies of the word 'utopia:' a good place (from eu-tópos) or a place that is not there (from ou-tópos); the first refers to the creation of spaces that respond to the deepest hopes of the human heart, the second highlights the awareness of the limits of every attempt to create such spaces once and for all. We believe that, in Nairobi, the first beneficiaries of a space like this must be the socially and economically most vulnerable dwellers of the slums, who live with the constant threat of losing even the little they have, due to the demolition of their shacks.
Mission
We want to create an egalitarian community of sisters and brothers that especially welcomes the oppressed – be they excluded, impoverished or discriminated against – sharing paths of liberation and hope with them, in dialogue with all men and women of good will. This community will be ecumenical and interreligious, open to all without distinction, and aim at integral liberation of the person. It will, therefore, implement economic, social, spiritual and cultural paths of liberation, since all these dimensions are always intertwined.
Strategy
To create a community space where the different paths of liberation, coordinated by Pepea Trust, meet and fecund each other.
The paths already in place are the following:
1) care of street children, together with disabled people left to themselves and devoted to begging;
2) organization of a national and international network of medical personnel and structures to tackle the health situations of the most deprived (Pepea Trust collaborates with the NGO Rainbow For Africa);
3) support for Deep Sea Simama CBO, a base community made up of the inhabitants of the Deep Sea slum, which monitors the situation of the poorest people in the slum, encourages micro credit and savings activities, and pledges to improve the hygiene conditions of its dwellers;
4) creation of new jobs through a profit-sharing company; this company, Afrika Pendaneni limited, belongs to a group of women who sew reusable menstrual pads, and a group of caregivers; both groups are made up of people residing in Deep Sea slum;
5) legal commitment in favour of those who have legitimate property rights on the land they occupy, in particular the same inhabitants of Deep Sea slum who, although they were in that place before Kenya gained independence, live in terror of seeing their shacks uprooted in the course of a single night;
6) offer of lessons, by a group of young teachers residing in the Deep Sea ('I care' Don Milani Association), to poor boys and girls of the slum who attend secondary school, with the aim of improving their cultural preparation and developing their critical thinking;
7) offer of the Course of the Popular Reading of the Bible that allows to spiritually empower the poor and make them discover the power of the Word of God to transform reality;
8) finally, a proper cultural path of liberation is also being developed, in order, on the one hand, to treasure the enormous riches of African culture and religiosity and, on the other, to translate our experience into a theological thought that can illuminate the life of all those who are engaged in similar paths, holding dialogue with those who are developing a similar theological reflection in the world.
Urgent Objective
Pepea Trust has been given, from a farmer, a 450 square meters piece of land as a donation; it could really become a place of 'salvation' for the dispossessed of Deep Sea, on their way to those liberation paths just described. According to the Judeo-Christian religious tradition, peoples can achieve freedom and happiness only by residing in a place where particular conditions are fulfilled. In the Old Testament, Israel's freedom from slavery finds its fulfilment in the Promised Land; while at the end of the New Testament humanity is welcomed into the city of the Heavenly Jerusalem. We are aware that it would be only a very small sign of 'restitution', however this tiny sign could trigger a movement capable of involving many other people and realities.
Our goal is therefore to build a structure that can, at least partially, satisfy the needs required by the ongoing activities. The fact that the structure will belong to a trust guarantees that no one will be able to change its purposes, which comply with the statutory purposes of the trust.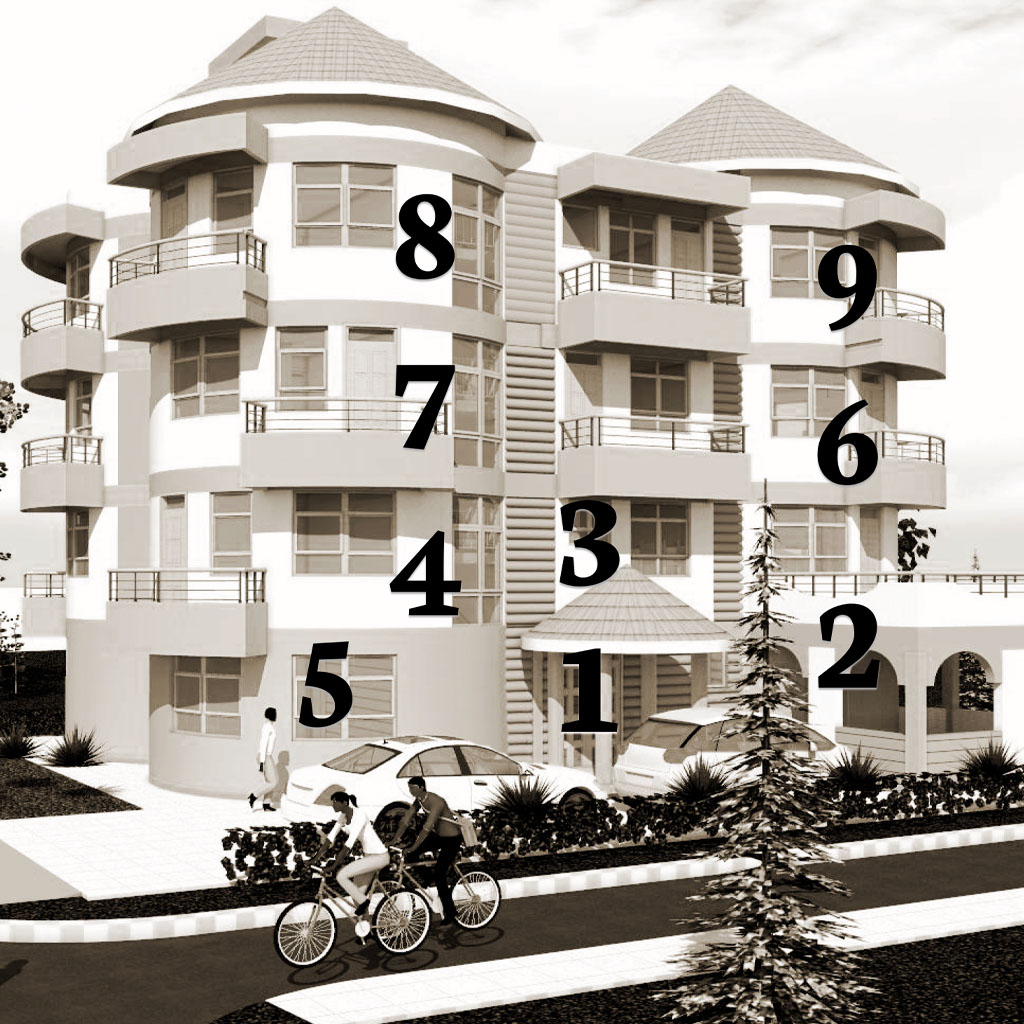 The construction should have the following requirements:
1) a conference room, that can also function as refectory and liturgical hall;
2) a kitchen that can also be used to prepare culinary products for sale;
3) bedrooms for abandoned children, disable people and carers or educators;
4) a room for medical assistance;
5) two classrooms for primary and secondary school pupils;
6) a tailoring room;
7) a room to devote to the study centre for theology and African culture;
8) bedrooms for guests and volunteers;
9) the laundry room.
Since the land available is too small to have all these facilities, the building will necessarily have several floors.
ECONOMIC SUSTAINABILITY OF THE STRUCTURE THAT INTENDS
TO BUILD PEPEA TRUST IN LIMURU (KENYA)
Situation analysis
La struttura in questione ha lo scopo di servire i seguenti progetti in atto:
1) La presa in cura in ogni aspetto di minori disagiati ed anche qualche disabile adulto. Al momento sono quasi 50 i bambini ed i ragazzi di cui mi occupo insieme ai volontari attraverso sponsor che provengono dall'Italia e dal Regno Unito utilizzando un conto dei frati, ma a breve tutto sarà gestito da Pepea Trust.
2) La creazione di attività produttive per la 'cooperativa di donne' Afrika Pendaneni Limited. Adesso stanno producendo assorbenti in cotone riutilizzabili (per le donne nei villaggi, negli slum e le ragazze della scuola secondaria) ma in futuro potranno produrre vestiario e se avranno spazi igienicamente adeguati, prodotti culinari. Al momento lavorato in alcuni locali da noi costruiti nella baraccopoli di Deep Sea.
3) L'offerta di spazi di ricezione per volontari per il personale medico di Rainbow For Africa ed i volontari di Engim, che intendono prestare il loro servizio in Kenya. Al momento questo personale è ospitato dalla struttura ricettiva dei frati.
Prospettive
1) La fonte di introito certa che sarebbe disponibile già a struttura terminata sarebbe data dagli sponsor che sostengono i bambini e ragazzi di cui ci prendiamo cura. Adesso il grosso della somma viene utilizzata per pagare le boarding schools in cui questi bambini e ragazzi risiedono per la maggior parte del tempo; ma con la struttura si pagherebbero solo le tasse scolastiche della daily school mentre il resto sarebbe utilizzato per vivere nella struttura ed organizzare una scuola pomeridiana sul modello della scuola di Barbiana (questo tentativo è già in atto con i ragazzi della scuola secondaria nella baraccopoli di Deep Sea).  A questo scopo la struttura prevede: 16 posti letto per bambini/e e ragazzi/e, 2 stanze per educatori, 2 stanze per portatori di handicap, 2 o 3 stanze da destinare ad uso scolastico e ricreativo più la grande hall al piano terra. Inoltre, da subito si dovrebbero avviare le pratiche per poter accedere alle risorse che lo Stato del Kenya mette a disposizione per queste strutture, si sono già presi dei contatti con il Ministero dell'Educazione.
2) Con la struttura pronta si potrebbe cominciare da subito la produzione di prodotti culinari da mettere sul mercato (questa è la ragione dell'ampia cucina che si vuole realizzare a piano terra e il deposito adiacente. Nairobi è il centro delle Nazioni Unite in Africa, la presenza di stranieri è molto alta e così la ricerca di prodotti culinari che solo con molta difficoltà si trovano nei 'malls.' Ed altre attività lavorative potrebbero sorgere dato che la struttura prevede una o due aule per attività lavorative al primo piano.
3) Gli ambienti destinati ai volontari, esattamente 6 stanze con un totale di 10 posti letto, potrebbero essere utilizzate durante il periodo in cui non ci sono volontari come B & B; anche la grande Hall al piano terra potrebbe essere affittata per chiunque chiedesse la disponibilità in Limuru. Il progetto prevede anche la realizzazione di un centro di spiritualità e studi della cultura africana, anche questo genere di attività potrebbero incrementare la 'circolazione' di gente nella struttura e garantire un ulteriore piccolo contributo economico dato il forte bisogno culturale e religioso della popolazione keniana.
In realtà, le risorse economiche per sostenere la vita delle persone che risiederanno nella struttura e la sua manutenzione ordinaria non saranno eccessive. La gente che dovrà risiedere nella casa viene dalle baraccopoli e riesce a soddisfare i suoi bisogni primari con poco. In Kenya non si ha la necessità di riscaldamento come in Europa e, quando non si deve far fronte a questo tipo di spese, i costi della vita quotidiana sono davvero irrisori. Certo si dovranno fare solo le spese che si riescono ad affrontare come si è fatto finora. Tuttavia, la verità è che senza 'un posto' non si può intraprendere nessuna attività lavorativa seria, e si è condannati alla precarietà se non alla schiavitù (le donne che aiutiamo lavorano 8\12 ore al giorno anche per 3 dollari!), mentre con un posto si può davvero cominciare a pensare ad un percorso efficace di liberazione, anche economica, per questa gente che già nelle baraccopoli mostra di non essere sprovvista di creatività
Membri fondazione
Consiglio di amministrazione Pepea Trust
Pepea Trust vuole essere un Trust al servizio dei poveri e degli esclusi. Pepea Trust, però, non considera i poveri solo come destinatari delle sue attività benefiche, anzi, ne sono i veri partner, per questo qualcuno dei suoi fiduciari viene dalla baraccopoli di Nairobi. I membri del Trust sono i seguenti...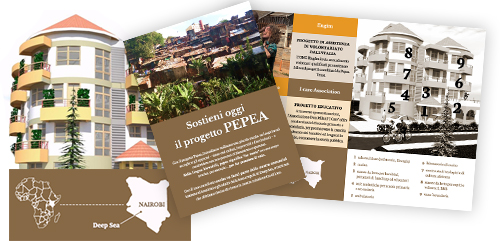 La Fondazione Pepea (Pepea Trust) ha ricevuto da un contadino un terreno di 450 mq. Così abbiamo deciso di metterlo a servizio degli abitanti delle baraccopoli.