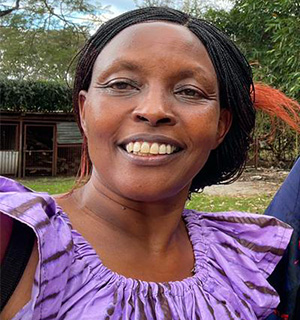 Contact Info
► Beatrice Churu


Beatrice Churu insegna al Tangaza University College (TUC) di Nairobi, in Kenya. Le sue aree di interesse e di ricerca sono la cultura africana, il genere, il benessere e la religione.
Ha pubblicato in queste aree negli ultimi 20 anni. Attualmente è preside della School of Arts and Social Sciences in TUC.
Si impegna a coltivare la collaborazione con individui, istituzioni e organizzazioni che la pensano allo stesso modo in tutto il mondo, nella costruzione di un mondo più inclusivo. È con questo spirito che collabora molto gioiosamente a Pepea Trust.


Beatrice Wairimu Ebale Churu teaches in Tangaza University College (TUC) in Nairobi, Kenya. Her areas of interests and research are African culture, Gender, Wellbeing and Religion.
She has published in these areas over the last 20 years.
She is currently serving as Dean of the School of Arts and Social Sciences in TUC.
She is committed to cultivating collaboration with like-minded individuals, Institutions and Organisations across the world, in building a more inclusive world. It is in this spirit that she very joyfully collaborates in Pepea Trust.